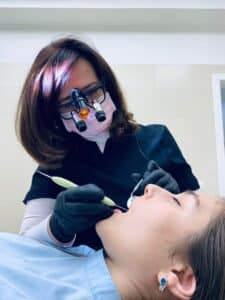 When selecting a new dentist, there are many choices. If you have children, it adds to the pressure of choosing a dentist that can see everyone in the family. Family dentistry is very much like general dentistry but includes children and adults of all ages.
While a general dentist may only choose to see adult patients and a pediatric dentist specializes exclusively in the care of children's dental needs, a family dentist can see everyone in the family from newborns to grandparents. We understand that tots, teens, and adults have different dental needs and concerns, and we are proud to help keep everyone's smiles in tip-top shape through the years.
Caring for Children's Primary Teeth
Toddlers and young children need many different things from their dentist than patients in their 20's or 70's. It is important to bring your child in for their first dental exam by their first birthday. While he or she may not have many teeth yet, this early visit allows your dentist to evaluate their gums, teeth that are under the gums, and any "baby" (primary) teeth that have emerged.
Infants are born with 20 teeth in their jaws, and some of them are already fully developed. This means that caring for their teeth begins before they even pop through the gums. We recommend cleaning their gums with a soft cloth dampened with water at this stage. Once a tooth has erupted, an infant or toddler toothbrush and water or a rice-sized amount of toddler toothpaste will help keep their gums and teeth clean. Starting this early also helps to familiarize them with the toothbrush so that as they become more independent, they are excited to take over the act of brushing.
Additionally, to help care for your child(ren)'s primary teeth we recommend the following:
Avoid putting your baby to bed with a bottle as it can lead to tooth decay
At around six months old, switch your child to a straw or hard-spout sippy cup instead of a bottle to avoid tooth decay
Begin gently flossing once their teeth begin to touch
At about age two, they should learn to spit after brushing, but avoid giving them water to rinse or swish with because it increases the likelihood of swallowing toothpaste
At age three, they can begin brushing with a pea-sized amount of fluoride toothpaste
Supervise all children under eight while brushing because they are still likely to swallow toothpaste
At all ages, limit sugary and sticky foods like candy and dried fruit to limit the chances for cavities to develop
We understand that even with the best instructions, children aren't always able to avoid cavities and tooth decay. If you have questions about how to help your child properly care for their teeth, we are always happy to help! And remember, children learn from observation, so leading by example is a great way to improve their oral health too.
Caring for Adult (Secondary) Teeth
While many of the recommendations remain the same as secondary teeth begin to come in, we understand that as you (and your teeth) age, different issues may develop. Even though enamel is the hardest substance in the body, problems such as cavities, cracked, and sensitive teeth are common. Additionally, gingivitis, periodontitis, and oral cancer can develop as well, which is why regularly seeing a family dentist is so crucial to your overall health.
Sadly, nearly 100% of adults have at least one dental cavity (and 60-90% of school-age children), about 20% of 35-44-year-olds have severe gum disease, and 30% of 65-74-year-olds around the world do not have any natural teeth left. These are all highly preventable issues with proper oral hygiene and regular visits to a dentist.
Although the issues mentioned above can be painful to read or troublesome, some people may still avoid seeing a dentist for fear of greater pain or cost to repair the problems. Rest assured, this does not make the situation better. Poor oral hygiene and tooth decay are linked to heart disease, cancer, and diabetes. Seeing your dentist on a regular basis could save your life.
The best way to keep your teeth (and yourself) healthy is to follow a preventative dental program, such as:
Brushing with a fluoride toothpaste at least twice per day
Flossing at least once per day
Limiting the amount of sugary and sticky foods and drinks you consume
Increasing your intake of fruits and vegetables
Avoiding tobacco products
Seeing a dentist regularly for routine cleanings and exams
Please don't wait until you're in pain to come in for a visit. At Advanced Dental Care of Twin Falls, we happily see new patients and love to help keep everyone in the family's smiles as healthy as possible. Your health and comfort are our highest priorities, and we carefully attend to each patient, addressing any concerns you have. Come on by to experience the best northern hospitality while we care for your smile!