Ranked Idaho's #1 Dentist Invisalign® Provider & Voted 2023 Magic Valley's Best Orthodontic Clinic
Are you looking for a simple, effortless way to align your smile? Look no further than Invisalign at Advanced Dental Care of Twin Falls! We provide customized treatment plans designed with your specific needs and goals in mind. By choosing Invisalign over traditional braces, you'll be able to conveniently reach stunning results without having to hassle with metal wires or bulky brackets. Our team is devoted to providing excellent care within an inviting environment so that comfort never has to take a backseat again! It's time for a better orthodontic journey, it's time for Invisalign!

Here at our Twin Falls, ID office we are passionate about delivering beautiful smiles to all of our patients. Don't wait any longer—get in touch with us today, and let us show you how Invisalign can help you!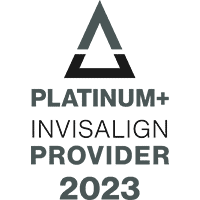 Invisalign is the ultimate orthodontic system that utilizes a sequence of transparent, detachable aligners to gradually adjust your teeth into the desired shape. Every patient's aligner is crafted with 3D imaging technology and fits securely over their teeth—much like wearing a retainer. With Invisalign, you can experience a virtually invisible treatment that offers comfort, convenience, and requires minimal upkeep!
The Benefits Of Invisalign®
Invisalign is revolutionizing the way we achieve straight teeth! With its clear, comfortable plastic that fits perfectly over your teeth, you can finally say goodbye to those pesky wires and brackets. Not only does it make treatment discreet, but its removable design also provides easier access for brushing and flossing during treatment—making the maintenance of oral hygiene effortless. With Invisalign, you can have straight teeth without having to sacrifice your comfort or complicating your hygiene routine.
Below are some additional benefits:
Quick results:

Invisalign has the power to give you noticeable results in as little as six months.

Improved oral health:

With Invisalign, it is easier to keep your teeth clean and healthy, making oral hygiene more attainable.

No dietary restrictions:

With Invisalign, there's no need to worry about compromising your progress with the foods you love. Unlike with traditional braces, you can enjoy all of your favorite meals without risking damage to your appliance.
The Process Of Invisalign® Treatment
The Invisalign treatment process is easy and stress-free. 
Following your initial video consultation, we will scan your teeth and send it to Invisalign for the fabrication of your custom aligners. With your scan, you will begin on the path to a perfect smile.

We will schedule you back in our office about four weeks later to deliver your trays.

You'll wear each aligner for four days and 24 hours each day before switching to the next set of aligners. 

Unique to our office in Idaho is our Virtual Care Program. With this program we are able to monitor your progress through a series of photos taken each week before switching to the next aligner. This helps minimize the number of visits needed for you to make to our office.

As you move through each step of your treatment plan, you will be able to see visible results as your teeth gradually shift into their desired positions.
Our team is here to attend to your every question and will provide comprehensive support on the journey ahead. We personalize our care around you—each of our patients receives individualized treatment plans tailored specifically for them.
Am I A Candidate For Invisalign®?
If you're thinking about Invisalign, Advanced Dental Care of Twin Falls is available to assist in assessing if this treatment option is ideal for you. Usually, those with only mild or moderate orthodontic issues and a promise to adhere to their care plan make the best candidates for Invisalign. When opting for this approach, it's essential that users are committed since consistent wear and proper maintenance of aligners are vital elements needed for successful results.
Take the first step to better oral health by scheduling a visit with one of our expert dentists. Our team will assess your dental condition, provide an accurate diagnosis and offer their professional expertise on how best to improve it.
Why Choose Invisalign® At Advanced Dental Care Of Twin Falls?
Choosing Invisalign at Advanced Dental Care of Twin Falls is not just about selecting a revolutionary method to straighten your teeth; it's about entrusting your smile to a team led by one of the industry's foremost experts. Our very own Dr. Brian Rencher was not only a speaker at the renowned National Invisalign GP Summit Convention in Las Vegas but has also trained rigorously under distinguished professionals in the orthodontic field. His commitment to excellence over the past 2 years has seen him amassing over 300 hours of training under the mentorship of Dr. David Galler, the distinguished president of the American Academy of Clear Aligners, and Dr. Wollock, the world's number one Invisalign dentist provider.
This immersive journey has vastly enriched Dr. Rencher's expertise and firmly established him as a leading expert in clear aligner treatments, setting a standard of unrivaled quality and dedication at our clinic. His remarkable achievements translate to a level of care and proficiency that is a cut above the rest, promising you a treatment grounded in deep knowledge and unparalleled experience. Let Dr. Rencher and our devoted team be your trusted partners on this transformative journey. Choose excellence; choose Advanced Dental Care of Twin Falls.
Straighten Your Smile With Us
If you're seeking a subtle way to perfect your smile without metal braces, Invisalign could be the ideal solution for you. Our Twin Falls, ID team would love to meet with you and assess if Invisalign is the best approach for your desired results! Let us assist in helping you get that gorgeous, aligned smile of yours that's been missing—contact Advanced Dental Care of Twin Falls now!